MUCH MORE THAN A TRIP AROUND THE WORLD
There are millions of children living in unhealthy conditions being enslaved and tormented day after day all around the world.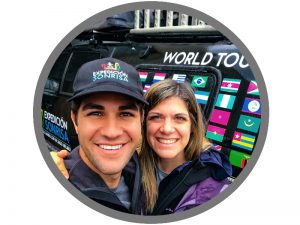 My name is Facundo Mattos and I started in 2014 the first overlanding world tour carrying a bouncy castle, visiting orphanages and places in need. As in any beautiful story, there is always place for love; in 2016 Carina Belofiglio joined the project and together we have traveled America, Africa, Asia and we are still on the road.
In 2018 we decided to take our project to a bigger and more permanent level. Our aim is to create a charity network of inflatable games around the world, that enables us to reach more children. We want to provide a permanent play space where love, education and contention are transmitted.
Our commitment to society is to return to children with violated rights the possibility of smiling again.
In addition to the bouncy castle that travels with us, we have another permanent game in Morocco and one being manufactured for Nicaragua. In December 2019 we will inaugurate another one Argentina. We are building the first charity network of bouncy castles in the world.
We want to reach more children with more inflatable games, and for achieving that we need your help; but also, we want you to be able to engage the same enriching experience that we feel when doing activities with children around the world. For this reason, we invite you to participate in our volunteer programs.
¡Join Expedition Smile!
A child who plays is a healthy child. Children should play and have fun because it is the basis of their development. Games promote physical and intellectual development during childhood, promote their creativity and prepare them to live in society. They also ensure that children have a healthy childhood on a physical and emotional level. For all that and for much more, all children should play.
¿What better way to awaken the desire to play than an inflatable game?

It is a space of contention that invites you to jump, to smile, to imagine, etc. And more importantly, it offers the opportunity to learn by playing.
LEARN TO SOCIALIZE

In addition to having to communicate with his playmates, the child learns to have an equitable treatment and accept points of view different from his own.

DEVELOPS THEIR PSYCHOMOTOR CAPACITY

When playing, they must test their memory, their ability to learn, to express themself, as well as to run, balance and jump.

ASSIMILATE THE BEHAVIOR

Learn rules, as each game requires instructions that the child must learn to follow to participate.

STIMULATES CREATIVITY

Game with inflatables promotes children growth and imagination, and thus their creativity.
Where are our bouncy castles?
Apart from being able to join the volunteer campaigns playing with the kids during our activities with the bouncy castles, you can help us in other areas such as organization, dissemination, etc. All of us who are part of Expedition Smile do it as volunteers, join our family!
Not only participate playing with kids on our activities, we want to expand our projects to more places in more Countries, this why we need local volunteers to help us generate links with the different children's homes, canteens, shelter, etc. in order to organice and help to develop a project in your own place.